Workshops / Presentations / Inservices / Conferences
Rhythm, Rhyme and Repetition: A Workshop for Pre-school and Early Elementary Classroom Teachers
Cathy's workshops show how to use a musical approach to teach children phonemic awareness, phonics, fluency, social skills, and everyday concepts like days of the week and opposites. Teachers will come away with games, movements, and visual aids that they can immediately use in their classrooms. Cathy performs for pre-K -1st grade classrooms as well as larger school assemblies. She is also available to lead fun and educational songwriting workshops with elementary school kids. Songs can be tailored to meet SOL requirements Special Teacher's discount offered.
"I came away from Cathy's workshop with actual musical tools that I could begin using right away with my students"
— S. Fink Petaluma CA
"The workshop is a very creative, interactive, motivating one for educators! Definitely worth repeating!"
—B. Charlton, Preschool Special Education Coordinator
Past Workshops/Inservices include Core Knowledge Foundation: National Conference, NY City Public Library, PACE Parents Organization of NJ, Albemarle County Title I Programs, Shining Stars Early Education Conference, WY State Dept. of Education
Suggested packages:
Teacher workshop with a CD for each teacher (special teacher's discount offered)
Summer school package (for Title One Children and others)
Workshop and School Performance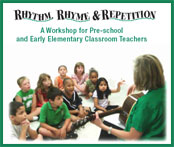 Download the Workshop Brochure (PDF)
Lyrics to "Natural Disaster"
Written by Mrs. Doyle's 4th Grade Class
Shady Grove Elementary School in Glen Allen VA

Cold fronts form to make a storm.
Strong winds come and go
Precipitation, such as snow (yes they do).
Let's put on a show.
Thunder and lightning, here we go (crash)!

Hey mister and sister, here comes the twister.
Rapidly spinning air
It has an eye, but doesn't stare
Moving things everywhere.
Cumulonimbus clouds, here and there.

Cover your windowpane. Here comes the hurricane!
Strong winds over the seas (Atlantic)
Spiraling all around me
Is it a "he" or a "she?"
Causing flooding, it could be.

What did you say-o? It's a volcano.
Volcanoes don't happen a lot.
The lava's very hot (2000 degrees)
On land or sea, what could it be?
The stash of ash comes in a flash!

We're talking about
Natural Disasters (natural disasters)!
Natural Disasters (natural disasters)!
Natural Disasters (natural disasters)!
Storms, hurricanes,
tornadoes, volcanoes.
Yay!